YOUR DC RECRUITING AGENCY
for temporary, temp-to-hire, and direct hire placements
for Human Resources, Talent
Aquisition & Executive
Administrative Hiring
WE GOT STARTED A
LONG TIME AGO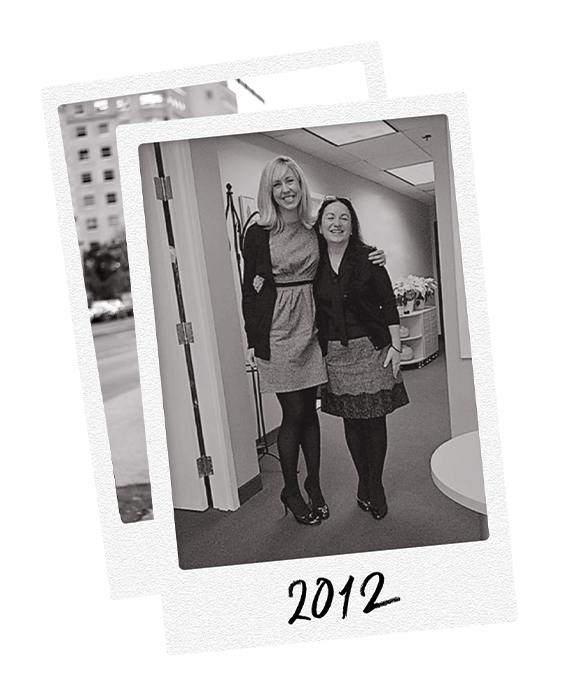 WE GOT STARTED A
LONG TIME AGO
We've been making successful placements together since 2012 and counting! Whether you're hiring or job searching, we bring out the best you have to offer. Let's talk about how we can help you.
We've been making successful placements together since 2012 and counting! Whether you're hiring or job searching, we bring out the best you have to offer. Let's talk about how we can help you.
Curious about what people say about us & our services?
Curious about what people say about us
& our services?
Kathryn and Kendall are not only amazing people, they are very, very good at what they do…and you can tell they love it. I have had the pleasure of working with them twice, and twice they have matched me with great companies in positions that suited me perfectly.
From helping to identify your goals to truly seeing and selling your strengths to coaching you through the entire interview process to following up once you've been placed, they demonstrate their passion and talent every step of the way. Especially in an area like the DMV, where it is rarely what you know but who you know that opens doors, they were the advocates I needed. In this I recommend them without reservation not only to job seekers but to companies looking for help finding great employees.
Extremely responsive! Kendall and Kathryn are awesome individuals to work with.
I highly recommend working with Kathryn Chmura. Of the many recruiters I have interacted with, Kathryn stands out because of her ability to understand the needs of her employer clients and provide great candidates.
As a candidate, I was never so prepared and ready for interviews as I was working with Kathryn. Throughout the process, she clearly had the best interest of her employer client in mind and she vetted me to make sure I was a potential match for her client. The questions she asked, the approach she took, and the readiness she created for my interviews was second to none.
I have worked with many different recruiters across the US, UK and Australia over the years, and Kathryn and Kendall are undoubtedly the best I've ever had the pleasure of working with! Back in 2013, Kathryn helped me land my first full time position out of college, at well-known non profit for the homeless in DC.
Kendall also guided me through the process of applying for a position at an association in Maryland in 2015. On both occasions I felt completely supported throughout the entire process. The types of positions they shared with me indicated that they had understood completely what I was looking for. The pre-interview coaching sessions by phone also ensured that I was prepared for the interview questions and that I felt completely confident.
Later on in 2017, I was working at a think tank in DC and partnered with Kendall to hire for a position on my team. I interviewed some incredibly high-caliber candidates and ultimately hired someone who was a great fit, and still remains at the organisation almost three years later.
Having worked with Kathryn and Kendall as both a job-seeker and an employer, I can attest that they were incredible to have by my side throughout both processes! I couldn't recommend Kathryn and Kendall enough and wish them the best of luck in this new exciting venture.
Government Relations Officer
As a boutique staffing agency, Job Society is second to none. It is obvious that the folks at Job Society care about what they do and the people they work with. Kendall and Kathryn take a holistic and thoughtful approach to facilitate each job seeker's success.
The individual attention and consideration given to my personal and professional objectives was refreshing. From increased LinkedIn traffic, to job placement–Job Society makes things happen.
Kathryn and Kendall consistently proved that their bottom line is not profit–their bottom line is people. In an industry plagued by apathetic and exploitative organizations, Job Society is the City upon a Hill.
Undoubtedly, Kathryn and Kendall's approach is also recognized by employers. Job Society not only knows the D.C. market, but the D.C. market knows Job Society. The reputation at JS is well-deserved and will surely work to your benefit.
Do yourself a favor and give them a call!
I cannot thank ​Kendall & Kathryn enough for all the help ​they have been to me, and for the work​ they put in behind the scenes on my behalf. I consider myself so blessed and lucky to have crossed paths with ​them​. Both of the times ​they reached out to me concerning employment opportunities came at moments where I was struggling to figure out my career path and questioning whether and when any of my efforts would pay off.
With ​my new company, I find myself already growing into a home and a role where I can really grow and build long-term success. I am so grateful to have been a part of Job Society.
Office & Public Affairs Coordinator
I have had the privilege of working with Kendall & Kathryn both as colleagues and as staffing allies. Their uncanny sense of urgency and determination have provided them with great success. Most recently, I have worked with Kendall & Kathryn as a client, hiring direct candidates and temporary employees from them.
In the past, I worked with them in the staffing industry, where I was able to share both clients and candidates because of the level of trust we developed. They handle each and every candidate and client of theirs as though they were the only one. Their great personalities and determination are a perfect combination to make any business staffing need a success.
Vice President, Corporate Relations
I moved to D.C. about a year ago because this is where I wanted to live and work. I didn't have a position lined up when I moved here and I was introduced to Kendall and Kathryn, who have been immensely helpful at placing me in temporary positions while I look for full time work.
Every company they've placed me with has been engaging and enjoyable, and I've loved everyone and every place I worked with. Kendall and Kathryn are highly communicative and have checked in with me every step of the way, as well as listening to my needs and wants and suggesting how they can be achieved and how they can assist in making them happen. I'm extremely grateful for their help and support, and I could not have made the move here without them.
I cannot thank Kathryn & Kendall enough for literally changing my life this year.  I love my job!!! It is an amazing place with amazing people and it is the type of place I dreamed that I would end up working for.  Thank you again.
Kendall and Kathryn are two of the most expert, kind, client service-minded people in DC's boutique staffing scene. Years ago, I worked with Kendall to find my first job out of school.
I had absolutely no idea what I wanted to do, and Kendall's ability to draw out my strengths, find opportunities I was genuinely excited about, and coach me through the interview process was indispensable to my success. I ended up with two full-time offers at once, and again, Kendall was invaluable in my decision-making process. She and Kathryn are both generous with their time and expertise.
Throughout my HR career since, I've partnered with many staffing agencies who seem to use a trial-and-error model; they send a high volume of resumes hoping something eventually sticks. Kendall and Kathryn have an exceptional ability to quickly and accurately understand the candidate profile, from hard skills to culture fit, making them feel more like an extension of the HR team rather than an external partner. They manage the recruiting, interview, and placement process with grace and a great sense of humor. From a candidate or employer perspective, I can't recommend them more highly.
Kendall and Kathryn originally placed me in 2012 at a nonprofit where I stayed for almost 4 years.  I joined a different organization, and they thought of me recently -after all this time- when they had a new opportunity!
I'm grateful for the time they committed to getting to know my background, interests and goals. With a 360° view of who I am, they were able to match me (again) with a great organization in role I'm excited to take on. The Job Society team really knows what they're doing and have given my career a boost when I've worked with them.
Give us a call or send us a note.
We'd love to hear from you!
We answer all email requests as they come in. Feel free to send us a message: